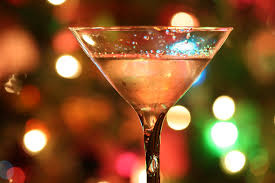 23 Dec

How to be Merry and Bright: Making smart drink choices this season.
Is there a healthy Alcohol??
Hello and happy holidays! I can't believe we've nearly hit the end of another year. This tends to be a time for celebration and relaxation, and I'm guessing there is a common question on everyone's mind. Is there a healthy alcohol drink? And if not, what is the healthiest option? The answer to the first, sadly, is NO, but fortunately there are some options that are better than others.
Clear hard alcohol drinks such as vodka and gin tend to be a better choice. You can make a very low calorie drink with no added sugar by simply drinking with ice and lemon or lime. As always, look for organic options and the best quality. And remember that moderation is always key.
For those of you like me who prefer wine, there is a great company called Dry Farm Wines. I am not affiliated with this company in any way, but I highly recommend them. They perform soil testing for toxins and chemicals, and the grapes are all organically grown. This is by far the best option for healthy wine – unless you are lucky enough to live in Italy! The biggest problem with wine is that most wineries use a lot of chemicals on the grapes and soil. So always look for Bio or Organic.
Now, for those of us who want to stay alcohol free but also have the urge to at least sip something fun, I highly recommend Seedlip. It is a distilled non-alcoholic spirit of unique botanicals blended together without alcohol or sugar. You can simply serve with ice or tonic and enjoy guilt free.
In a time of celebration I hope this advice serves you well.
In Health,
Jennette
PS- Here is a quick morning recipe
PD Morning Oatmeal
1 Cup gluten free steel cut oats
1/2 Teaspoon of cinnamon (more if desired)
1/4 Teaspoon of vanilla
1/4 Cup soaked or sprouted walnuts
1/2 Tablespoon of coconut oil
Add water according to directions on oats packaging, heat until done, mix. Serve warm.
Jennette Malsbury, CTNC, NT and owner of Nutritional Restoration